Message from the Chief:
On behalf of all the members of the Blackfoot Police Department, I welcome you to our website.  We offer limited information via this website but look forward for the opportunity to talk to you in person.

The mission of the Blackfoot Police Department is to enhance the quality of life for those that live in, or visit our community.  Furthermore, we value our employees and are committed to improving their quality of life in the work place.

The Blackfoot Police Department has 27 sworn police officers and a civilian support staff of 3 full time members.  We also have part time sworn officers as well as part time civilian positions.  Additional resources are provided by a reserve police officer program and an active Citizen's on Patrol (COP) program.  All these individuals are highly trained and truly dedicated to those we serve.

This department is dedicated to the concept of "community policing".  Community policing is a strategy and philosophy which fosters a partnership between those that live and work in Blackfoot and the police department.  In order for us to be proactive we rely on our partnerships with citizens, civic groups, and neighborhoods to reduce and prevent crime.  We are always looking at ways to improve our relationships with these groups.  Anyone interested in making Blackfoot a better place to live is encouraged to become involved if not in one of our programs something else of interest. 

I look forward to serving as your Chief of Police.  As the department moves forward, we will continue our commitment to service with honor, integrity and pride.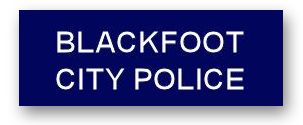 What is Community Policing
...a partnership of law enforcement with the public... 
Sharing the responsibility for protecting and improving  
the quality of community life through teamwork, creativity
and community resources, thus reducing crime.



We are a proactive law enforcement agency.   We keep the citizens in mind with all the programs we 
provide.   This has been shown through our bike patrols, citizens on patrol, police reserves, park 
patrols, special response team, gang enforcement team, as well as our day-to-day contacts through 
the patrol and investigations divisions.   We work with a supportive Mayor and City Council who 
are pro-law enforcement.   I encourage you to explore our web-site and contact me if you have any 
questions about our police department.